T-Shirts & Merchandise (Naples)
We are excited to announce that for the upcoming WESTON CUP we will be having Tournament Merchandise available!
We are starting to take PRE-ORDERS at discounted prices (Limited time only)
We are also offering Team Deals and we have the capability to do name customizations. If players/coaches/parents would like more information they can contact:
Luis Gonzales
Retail Coordinator
Cell: (239) 675-8482
Email: LGonzales@playparadisecoast.com
Entertainment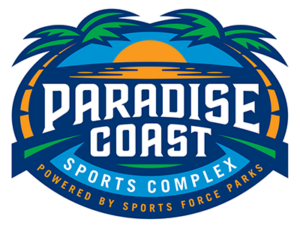 The Cove
The Cove at Paradise Coast Sports Complex is the newest social hot spot with great food, cold drinks & lots of family-friendly entertainment.
Hours of Operation:
Mon – Thu: 5 pm to 9 pm
Fri: 5 pm to 10 pm
Sat: 11 am to 10 pm
Sun: 11 am to 8 pm